We are a team of dating experts and online dating enthusiasts who know a lot about online dating. We've been analyzing, comparing, and studying dating platforms for years, and now, we are finally here to help you. 
The main goal of Datingology is to help an average American understand the online dating industry better. We want to help people make the right choices and become more successful when it comes to dating. For this purpose, we created this platform, and for this purpose, we continue our work—we analyze and compare dating websites to help you choose the best ones and to help you understand how they work. With Datingology, you do not need to do your own research—it's already done by our expert team.
How can we help you?
Trustful website reviews 
Datingology provides trusted, honest, and fair dating website reviews to help you choose the best dating platform for your needs. Our experts, who have been using dating apps for years, analyze all the possible factors to create a fair review that would answer all your questions about the dating site.
We always test the websites ourselves, this is why we're different from the other review platforms—it usually takes us at least a few days to understand all the pros and cons of a particular dating site. Our experts do the testing and write the reviews, and our editors make these reviews clear and enjoyable to read.
Online dating tips and advice
We at Datingology don't just explain which dating websites are better—we also explain how to date people successfully. Our dating experts know how to make your relationship healthy and stable, they know how to date people from different countries and of different professions, and they know how to date successfully online and offline. Here on this website, they'll tell you everything they know about online and offline dating.
Our process of making reviews
How do we create our reviews? Here's the answer.
#1 Personal use
First, we test the websites ourselves. It's the most important part of the process—during this step, we choose to continue analyzing the site or to stop it. We analyze every detail on this step—from the convenience of the website interface to how "real" the profiles look. We believe that a good dating website must be good at everything, from the user experience to the response rate. That's why we test every detail ourselves. 
#2 Research
When the first step is made, we continue our research. At this step, we read all the reviews we can find, from expert reviews to the ones written by real users of the site. That's how we understand if the reputation of the app is good or not. We also research every detail with special analytics tools like Similarweb—the number of unique monthly visitors, the sex ratio, the average session duration, etc.
#3 Writing review
After that, we start writing a review. With all the details mentioned above, our reviews are clear and based on facts—of course, our emotional perception of the site is very important, too, but for us, the facts are primary.
#4 Editing and validation
The review is not done when we stop writing, that's what our editors say. They are highly-skilled professionals who know everything about good writing, but they don't just edit the reviews and guides—they also check facts and numbers to make sure only valid information is delivered to the readers.
Our editor`s notes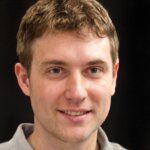 Joshua Harrington
Author
I'm Joshua Harrington. I've been helping people to make their relationship stable for more than 8 years, and I've been testing dating apps for 3 years. My main goal is to help the readers to understand how to date other people successfully. Dating a cop is different from dating a model, and dating in your city is different from dating a foreigner. I know about all these differences, and my goal at Datingology is to explain these differences to the readers. I also write dating site reviews to help people understand which apps are worth the time and which ones are not.